2017 Audi A3 Sportback e-tron - Experience it now at Audi St. Catharines
The dedicated engineers behind the Audi A3 Sportback e-tron truly believe that a smarter, more efficient engine can transform the world without compromising performance. Enjoy the distinct luxury and attention to detail you expect from Audi, with the option to choose between four driving modes, from fully electric to entirely gasoline engine-powered.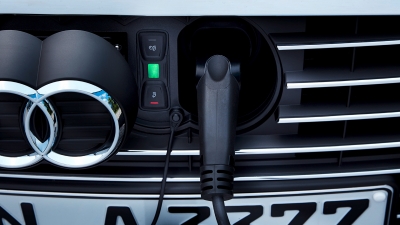 Electric power meets performance.
The A3 Sportback e-tron's electric motor boasts 243 lb-ft of torque for nearly instantaneous response and an incredibly smooth ride. It can operate on pure electric power, gasoline engine power, or a combination of the two.
Gasoline engine  -  The 1.4-litre TFSI engine delivers 150 horsepower – a significant performance boost when called upon – and provides the capability to continue the adventure after the battery charge has fallen to its reserve supply.
Plug into a superior ride. 
Deciding when to use the A3 Sportback e-tron's battery is entirely up to you. It lets you choose exactly when to drive on electric power alone, or save the electrical energy stored in the battery for later use. Drive gasoline-free within the city and use the combined gasoline engine and electric motor for a weekend getaway.
Nothing is compromised in the A3 Sportback e-tron.
The A3 Sportback e-tron is as elegant as it is functional, with a versatile Sportback design, LED daytime running lights and S line exterior elements. The distinctive Tornado line runs just under the side glass, from the headlights to the leading edge of the taillights, giving the impression of movement, even at a standstill. Traditional Audi design elements are complemented by e-tron-specific features like the battery charging port hidden behind the Audi rings within the Singleframe grille and an exclusive wheel design.
Experience functionality used to its full potential. The A3 Sportback e-tron design is sleek, well-proportioned and practical. The clever positioning of the compact battery module underneath the rear seat ensures cargo space is never compromised. Cargo volume is 386 litres.
The e-tron is, first and foremost, an Audi. It delivers on all the prestige, innovation and attention to detail you've come to expect. Our engineers worked tirelessly to package the A3 Sportback e-tron hybrid system technology in a way that would have a nearly imperceptible effect on the interior space or comfort. This is particularly apparent in the rear cargo area. The result is an interior that is equal parts expansive and inviting. Optional additions include driver assistance features, such as adaptive cruise control.*
*Drivers must continue to perform manual checks and pay full attention to the road.


Audi A3 Sportback e-tron Trim Lines
Available Packages 
Sport Package with e-tron Turbine wheel - includes 18" e-tron Turbine design wheels, 225/40 all season tires, Sport seats  - $1100
Sport Package with 10 spoke wheel - includes 18 " double 10 spoke design wheels, 225/ 40 all season tires, Sport seats - $1200
Technology Package - Active lane assist, Adaptive cruise control with Stop and Go, Audi pre sense front  - $1400
Recommended Configurations for the 2017 Audi A3 Sportback e-tron
Sporty - includes S line Sport Package, 19" alloy wheels, Front sport seats
Advanced - includes LED headlights, Audi virtual cockpit, MMI Navigation with MMI touch
Luxury - includes Chestnut brown leather seats, heated multifunction steering wheel, Bang and Olufsen Sound System
Audi Sportback  e-tron Links  ( please note these links will direct you to Audi Canada)
 - Frequently Asked Questions 

 - Build your Audi Sportback e-tron ( please note this will take you to the Audi Canada site)

- FAQ e-tron Technology 
Book your e-tron experience now at Audi St. Catharines  - 905-688-3337
---